"A Fantastic Find" - Lorraine via booking.com

Stylish make-over, good staff, excellent food - breakfast was superb.

We stumbled across the hotel by accident, a fantastic accident! Lovely little harbour with amazing views. The hotel was freshly made over, the staff could not have been more pleasant and helpful. Wood fired pizzas freshly made on the patio. Would highly recommend.
"A Peaceful Relaxing Place to Chill Out" - Joanna via Booking.com

Stunning, peaceful setting alongside a quaint little harbour and pebble beach.

The secluded hamlet down country lanes offered a couple of shops and a good pub next door. The small hotel did not disappoint! Undergoing extensive refurbishment, the overall ambiance was stylish but relaxed with a modern twist on traditional. The completed bedrooms were relaxing and comfortable and our bed provided a good night's sleep. Our room (no 6) had it's own sitting area and harbour view. The restaurant was excellent featuring local produce. There were plenty of nooks and crannies to settle with a good book. Some nice touches such as a well equipped guest pantry for teas, coffees and snacks and a well stocked library.
Our Awards and Suppliers
We are spoilt with an abundance of local suppliers and take great pride in hand selecting the best that the region has to offer. Here are just a few of our local suppliers and the awards we have won...
Our Locations...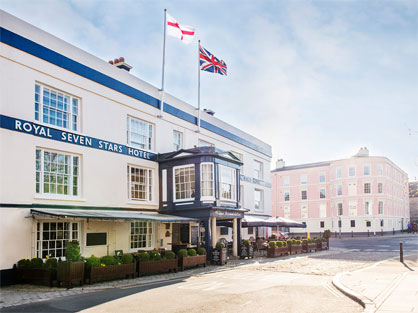 The Royal Seven Stars Hotel
Totnes is a vibrant centre for music, arts and natural health situated at the head of the River Dart estuary and in an area of outstanding natural beauty.
view website